28 COLD HARD FACTS IMPACTING WOMEN IN LEADERSHIP.
Homeward Bound is a global network of women in STEMM that aim to lead and influence decision-making as it shapes our planet.
In 2018 and 2019, women at Homeward Bound embarked on a mission to uncover the truther about diversity in the fields of science, technology, engineering, mathematics, and medicine (STEMM). 
The result is a published paper and a Gender Fact Sheet summary. As these undeniable facts highlight, we have a long way to go to achieving equality.
It's time to give women in STEMM a bigger voice. Share these facts with everyone you know.  Shout it loud.
Because together, we CAN change the status quo.
The evidence is clear.
Discrimination is real. Harassment happens.
Bias shapes behaviour. Institutional racism exists. Intersectionality amplifies all the above.
To achieve equality in STEMM, we must address misogyny alongside racism, homophobia, and xenophobia.
#01
ONLY 10% OF SENIOR LEADERS ARE WOMEN.
#04
MEN ARE NOT MORE CAPABLE.
#06
WOMEN LEADERS OFTEN GET THE RISKIER ROLES. WHY?
#09
WOMEN ADVANCE SLOWLY WHILE MEN IN WOMEN-DOMINATED FIELDS ADVANCE QUICKLY.
#11
SUCCESSFUL WOMEN ARE SEEN AS LESS LIKEABLE.
#14
Discrimin-ation happens across cultures.
#17
Double-blind peer review helps reduce bias.
#19
Many workplace practices bias in favour of men.
#21
"Heroics" are usually valued more than women in leadership. 
#24
Mentors mean more women study STEMM.
intersec-tionality.
The systems that shape experiences are cumulative and cannot be separated. Work on STEMM equity data is better understood by including the intersectionality of race and gender.
#28
When women help women, we're a powerful force.
#02
WHEN YOU HEAR 'CAN'T' OFTEN ENOUGH YOU BEGIN TO BELIEVE.
#07
"JENNIFER' LOOKS LESS COMPETENT THAN "JOHN".
#12
WOMEN WORK HARD BUT GET LESS RECOGNITION.
#15
Women are under-represented in physical sciences.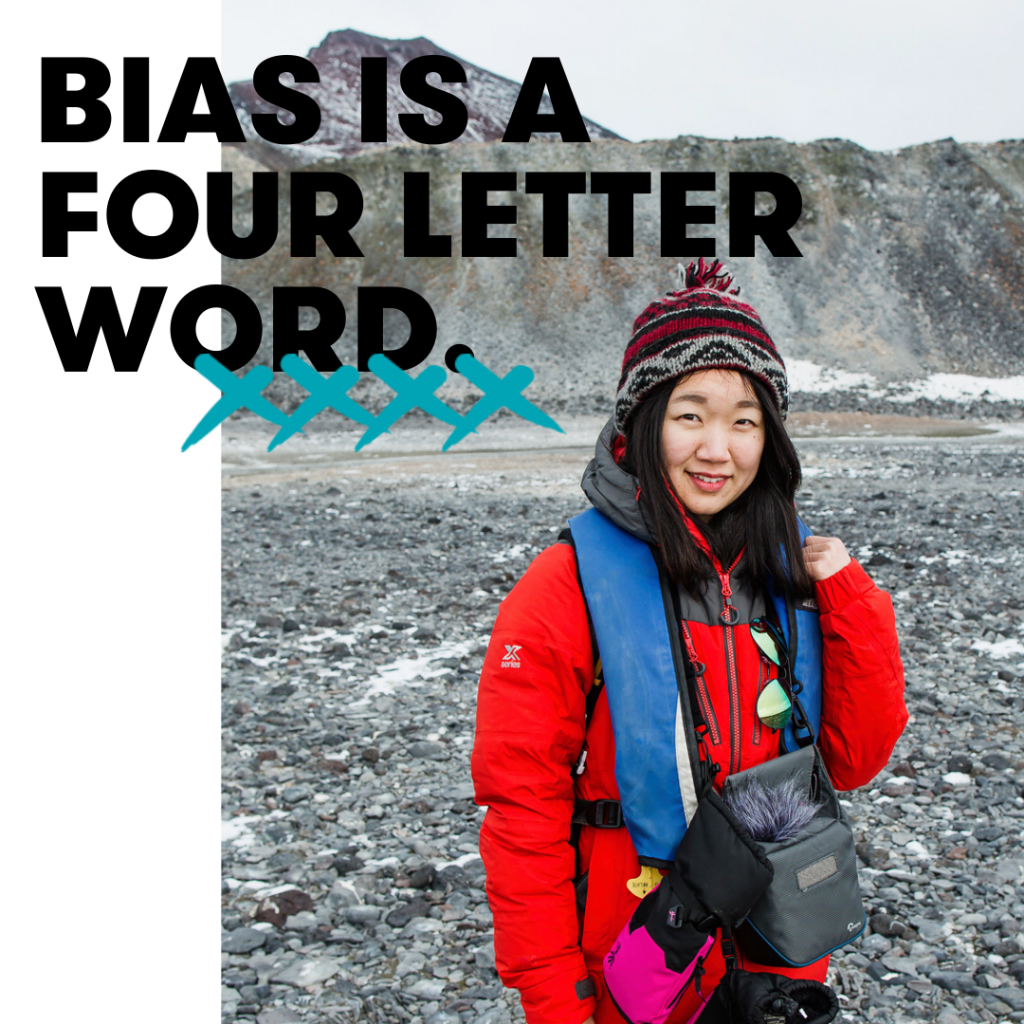 #20
Having kids affects your income, but so does simply being a woman.
#22
Women still do twice as much housework as men.
that's what she said.
Daily slights, insults and unconscious sexist actions are known as micro-aggressions. They are experienced by all women.
#26
Discrimination is greater for black and minority ethnic, and LGBTQ+ women.
#27
INTERSECTION-ALITY gains insight on existing data. #03
MANY WOMEN IN STEMM STRUGGLE WITH SEXUAL HARRASSMENT.
#05
SOCIETY MAKES A WOMAN HER HARSHEST CRITIC.
#08
SHE TENDS TO BE IGNORED WHILE HE IS LISTENED TO.
#10
WOMEN OF COLOUR HOLD THE FEWEST STEMM DEGREES.
#13
the queen bee effect has no sting.
#16
The pay-gap is amplified by intersection-al inequities.
#18
Culture shapes men's behaviour towards women.
Same work, less pay.
Women earn almost 1/3 less than men within a year of completing a PhD in a science, technology, engineering or mathematics field.
#23
The playing field isn't level for all women.
#25
You can't be what you can't see.

Help change her STEMM story.

Mother nature needs her daughters.
STRONGERTOGETHER
It's time to give women in STEMM a bigger voice. Share these facts with everyone you know*. Shout it out loud. Be heard. Rally together. Pass it to your peers, your networks, and social circles.
BECAUSE TOGETHER, WE CAN CHANGE THE STATUS QUO
* Steal the Gender Facts resources from our public TRELLO board. We don't mind at all.